Kitchen fire suppression system inspections are vital to safety. In any size kitchen, the restaurant hood fire suppression systems acquire a grease and grime build-up. This build-up, when not cleaned regularly, will eventually clog the nozzles meant to disperse wet chemicals over the source of a stove, fryer, or grill fire to put the fire out. This causes a serious fire hazard in commercial kitchens. You must adequately maintain your restaurant fire suppression systems to ensure the safety of your business.   
So, how often do you need kitchen suppression system inspections and servicing to ensure systems remain in good working order and your business stays safe?
Know inspection timelines and kitchen fire suppression system requirements
Properly prepare for inspections
Clean kitchen fire suppression systems regularly 

 
Let's start with compliance for kitchen hood fire suppression system inspections first. 
How Often Should You Have Restaurant Fire Suppression System Inspections?
NFPA 96 says you must complete restaurant kitchen hood fire suppression system inspections every six months by a licensed fire protection companies. Therefore, twice a year, certified fire safety professionals must ensure if there is a fire in your commercial kitchen, your suppression system will activate, put the fire out, and shut off the gas line or electric running to the equipment. 
Minimum of 2 Commercial Kitchen Hood Inspections Per Year. 
AIE also recommends the restaurant owner or kitchen manager perform a basic visual kitchen hood inspection monthly. Check for grease and clogs, damage to the nozzle caps and extinguishing lines, and anything that looks suspicious. Restaurant hood cleaning can save you money and potential damage.
You simply cannot be too careful – the minor inconvenience and cost of fire suppression system inspections and service call is far less than the $60,000 cost of the average uncontained restaurant fire (National Fire Data Center).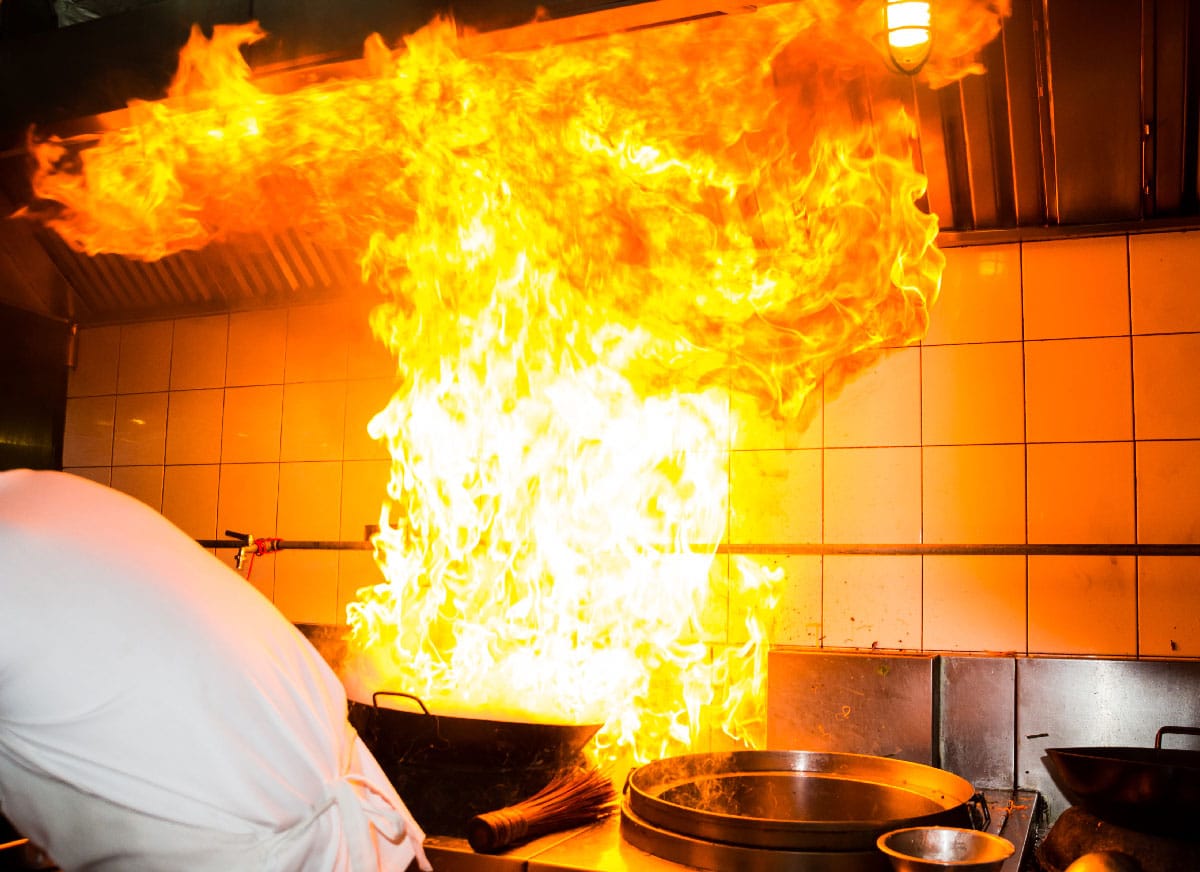 Built-up kitchen hood system residue becomes combustible at approximately 700 degrees Fahrenheit. The average cooking appliance flare-up is 1,800° F.  With regular service, you can stop hood grease residue from igniting and spreading through your restaurant's entire duct system.
How to Prepare for Kitchen Suppression System Inspections
Cooking equipment must be cool and not in use prior to the inspection, so it is best to schedule your kitchen hood inspection during off-hours and notify all staff of the upcoming service. Also, make sure that everyone present is aware that the fire alarm must be taken out of service during the inspection. It's best to have a kitchen fire suppression system inspection checklist on hand to cover all your bases.
What Happens During a Kitchen Hood Fire Suppression System Inspection?
Not only is the commercial fire protection company you've hired going to do a full fire suppression system inspection, the certified technician will also service the system with new parts and correct any problems.
This is what you can expect during your system inspection:
Nozzles from which the extinguishing agent is discharged are inspected for build-up.
Nozzle caps are replaced.
Air is run through the extinguishing lines to make sure there is no blockage.
The manual pull station is pulled to make sure it activates the system.
Pressure gauges are checked for proper PSI.
Operation of gas shut off valve and microswitch are tested.
Ensure the fans are running and operating properly as designed.
Cut the fusible links (simulating the melting of the metal due to excessive heat) to see if the system activates.
Install new links with the date stamped on them for proof of service for the fire marshal inspection.
Check that the gas shuts off upon activation.
Test that the electrical shuts off upon activation.
File your inspection certification with the local fire authority.
Tag the system showing certification was completed by a professional according to regulations.
A Commercial Cooking System Service and Inspection Report will be left on-site and one will be sent to the local fire department.
How Often to Clean the Vent Hood & Suppression System?
We get asked often, "When should I clean my kitchen vent hood system and do I have to wait for the bi-annual inspection?" At AIE, we feel inspecting and cleaning the hood system twice a year is not nearly enough to lower fire risk. We recommend your staff clean the kitchen hood, filter, and nozzles frequently – weekly, monthly, or bi-monthly. The fusible links that accept the heat and kick-off the fire suppression system will not work when built up with grease.
If your restaurant is high-volume in nature, make hood and nozzle cleaning part of the daily routine. This stops accumulating grease and the dirt that sticks to it, and keeps it from collecting in the flue. These simple restaurant fire suppression system tasks can decrease the likelihood of hood fires, keep your kitchen running safely, and your business in operation.
In the U.S., total annual restaurant fires cost approximately $165 million, and 57% of the time, those fires involve kitchen equipment.
Inspect & Service Restaurant Hood Fire Suppression Systems Often
When your kitchen vent hood, range hood, deep fryer or grill hood exhaust system is dirty and greasy, it cannot do its job, and the kitchen suppression system inspection may be rendered useless just when you need it most. To ensure your restaurant fire suppression system is operating at optimum levels, partner with a reputable commercial fire protection company, like AIE, for your NFPA fire suppression system inspections and kitchen hood cleaning service.
When you work with us, we keep an electronic service and inspection record, so each time we perform your fire safety inspection, we know exactly what was done before and what to watch for in subsequent visits. Our team can also ensure you have the best type of fire suppression system for your needs. 
We are your national, multi-location fire protection specialists, including kitchen hood fire suppression systems. Contact AIE today to schedule your next restaurant hood fire suppression system inspection.  800-892-9863
Information posted in our blog is merely for educational and informational purposes. While the information has been verified to the best of our abilities, we cannot guarantee its total accuracy, and it should not be considered legally binding advice. This blog is not intended as a substitute for professional advice, and should you decide to act upon the information, you do so at your own risk.