24/7 Emergency Fire Safety & Water Leak Repair
When you need fire sprinkler help, fire suppression repair, water leak detection, or any fire safety emergency services at your commercial facility, you need to know who to call – and that call needs to be answered 24 hours a day, 7 days a week, 365 days a year.  Our in-house call center is staffed by AIE experts who can help limit disruption and minimize the costs of a fire sprinkler system break or leak.
AIE is the ONLY nationwide fire protection and life safety company in America that has an in-house, toll-free 24/7/365 emergency hotline, 1-888-AIE-PALS (243-7257), where calls are always answered by knowledgeable, friendly AIE staff, never an answering service. Our fast, one-call process calms the panic and gives you power over the situation.
Rapid Response Commercial Leak Detection & Emergency Water Leak Repair
No business ever plans on a fire sprinkler pipe break or water leak in their commercial buildings. But leaks and breaks to water lines and fire sprinkler systems do happen. And when they do, they can cause major disruption to your company – serious damage and loss of inventory, lost productivity, staff attention and focus, potential loss of revenue, customer risks, slip/fall possibilities, and reduced confidence/perception from customers and employees alike. You need quick, 24/7 emergency services to minimize damage and costs. 
Our AIE team knows your top priority is the safety and confidence of the people on-site at the time of the leak – whether they are customers or employees. Our rapid response emergency water leak services will stop the water flow immediately and reduce the risks associated with more serious water damage in your building while our expert technicians are in route. Whether it's water leaking from fire sprinkler head or an underground pipe break, our team can help.
The Process
With one call to our in-house call center, AIE's emergency experts will guide you through the proper steps in the right order to stop the water flow and temporarily restore order while our reliable technicians are dispatched, arrive on-site, and repair your fire protection system. You deal with one company, receive one invoice, and have the confidence of a service guarantee, all from a single source.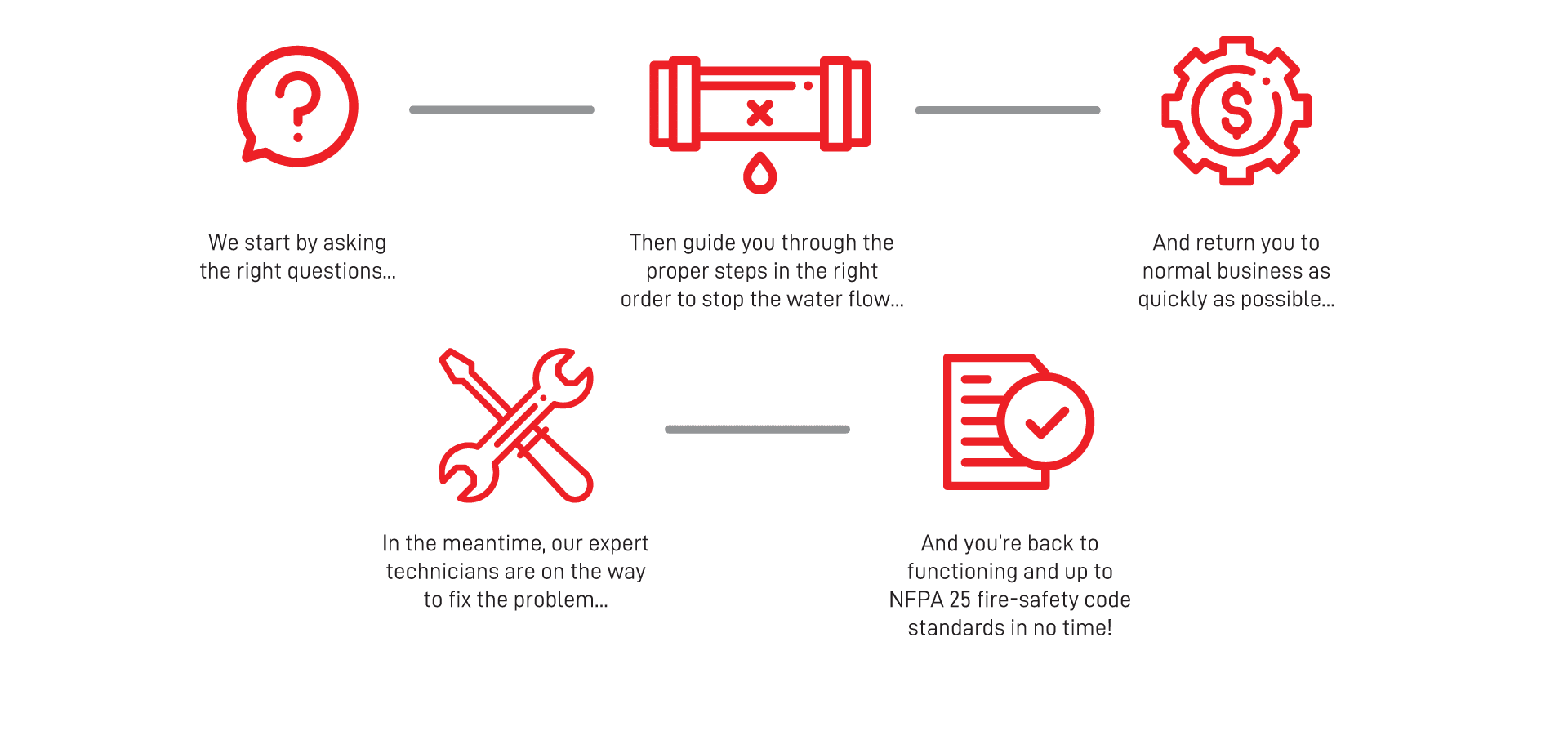 When a problem arises, customers count on fast, efficient, personal customer service from AIE. Our phone lines are staffed 24/7/365 by AIE employees with compassion and competence to help resolve your issues rapidly and return your world to normal.
Prevent Critical Water Leaks with Regular Inspections
The best way to prevent fire sprinklers from failing and water lines from breaking is with regular fire sprinkler inspections, water system testing, and fire protection safety inspections. When AIE's nationwide, licensed technicians perform regular inspections, they can spot minor vulnerabilities before they become bigger issues. Catching potential points of liability and making repairs will keep fire protection malfunctions and water emergencies at bay.
Quicker Resolutions with Expert Water Leak Detection Services: Find the Source
AIE's expertise and experience in commercial water leak detection services provide quicker resolution of the key initial challenge in underground water leaks – FINDING THE SOURCE!
Getting the right people on-site right away to manage the situation saves time and significant dollars. These dollars can add up quickly with underground leaks or pipe breaks. Our water leak experts will locate and repair the water issue quickly to minimize stress and more serious water damage. 
AIE experts have the skills and project management experience to find the source rapidly and fix the problem with minimal business disruption – this is where the true value lies. We know the significance of turning off the water to dig and fix the leak – aside from shutting down your business and lost revenue, it can impact an entire community.
With nearly four decades of experience across the full spectrum of fire safety and emergency management, AIE completes the emergency repair job right the first time. We hold all contractors accountable for both performance and cost management and provide a single audited invoice when these often lengthy and expensive projects are completed.
We are your go-to experts for fast and reliable 24/7/365 emergency water leak repair services and assistance.
24/7 Emergency Fire Protection Services & Water Leaks: Here for You
AIE is unique … when you need fire sprinkler help, fire suppression repair, water leak detection, or any fire protection emergency services at your commercial facility, our in-house team is here for you 24 hours a day, 7 days a week, 365 days a year.  Our nationwide network of the best fire safety and waterline technicians will respond quickly and perform every project with integrity and value.
If you're experiencing fire sprinkler system leaks, a water line break, or another emergency leak, call us right away.  AIE is open ALL night and ready to help you, no matter where you're located. Contact us to discuss leak detection, fire sprinkler leak repair, or emergency services. 800-892-9863
Stay Connected
Get expert fire protection tips and information delivered
right into your inbox. Subscribe to our blog below.