Fire Protection for the Facilities Management Industry
Commercial facility management is no small task. As a facilities manager, everything you do affects the profitability of the business, including keeping your people safe and creating confidence in the workplace. It is crucial to the bottom line.
To provide the best life safety service management you must adhere to strict fire prevention and life safety standards and codes, and maintain up-to-date fire protection systems. However, it's easy to let fire safety take a backseat to other, more pressing responsibilities.
That's why AIE provides the most convenient fire safety services and the best, single-source nationwide fire protection solutions to facility managers. We exist to simplify fire facilities management and commercial fire protection to keep your people safe from fire with essential fire safety measures.
Since 1983, AIE has been providing trusted commercial fire protection and full-service life safety solutions, including inspections, inspection management, and 24/7/365 in-house emergency services.
Fire Facilities Management & Fire Safety Solutions
You no longer have to manage your company's fire safety on your own or use several fire protection companies to get the job done. Having one source that provides a range of full-service, facilities management fire safety solutions makes your job easier.
AIE works with each facility manager and safety personnel at all locations to:
Design and retrofit fire protection equipment and systems for the size, scope, and occupancy of each building.
Perform a fire-risk assessment to ensure you have the proper fire protection systems in place and make code-compliant recommendations.
Inspect, test, repair, and maintain all equipment, life safety systems, and water supply.
Help you with just one or a group of fire protection services – whatever you need to get the job done.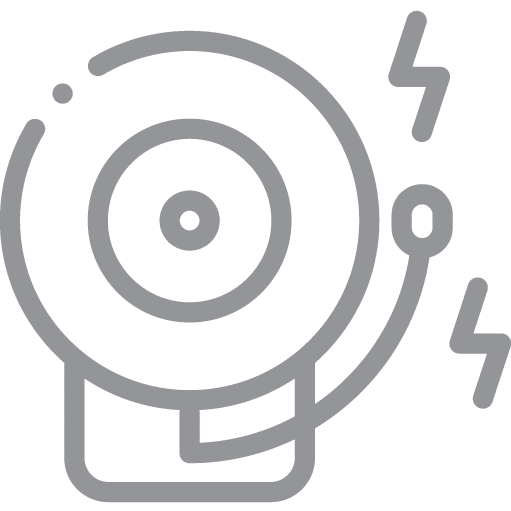 Emergency Lighting Systems
24/7/265

Toll-Free Emergency Hotline Answered by AIE Staff 
Experiencing a water leak or other fire system emergency? AIE is the only U.S. fire protection company that offers a 24/7/365 toll-free hotline, 1-888-AIE-PALS (243-7257), answered by knowledgeable, friendly AIE staff, never a third-party answering service. 
AIE's fast, one-call process calms the panic and gives you power over the situation.
Facilities Management Solutions: Fire Inspections & Inspection Management
Facility managers, it's easy to fall behind on preventative fire protection inspections and maintenance. This often results in code-compliance issues, and potentially broken or missing fire sprinklers, fire extinguishers, backflow preventers, and other fire protection systems. These oversights can be life-threatening, affect workplace and customer confidence, and add up to costly fines.
AIE offers a simple fire protection inspection and maintenance solution. No matter where your business is located or how many facilities you manage, our expert technicians – who know national, state, and local fire protection codes inside-and-out – will partner with you for every inspection and offer as-needed repair and maintenance resolutions. We're dependable fire facilities management partners here to make your life easier.
Our conscientious technicians manage your equipment maintenance and repair records electronically, in accordance with National Fire Protection Association Standards. This creates accessible documentation and assists with cost reductions, budgeting, scheduling, planning, inspections, and maintenance.

Our inspection team, led by a former Fire Marshal, also act as third-party inspection managers between local inspectors and your staff. No more stress over costly, impromptu fire marshal inspections.
AIE's licensed, national fire protection 

technicians perform:
All inspections,
from quarterly to 20-year
Equipment & Water Supply Testing
Prevent the loss of life, property damage, and downtime with AIE's full-service, coast-to-coast commercial fire protection solutions.
AIE is a true single-source supplier – we service ALL multi-site facilities' fire protection equipment in every national and regional location while you benefit from one team, central invoicing, and one record-keeping system.
Fire Prevention for Facilities Managers
Commercial fire prevention programs exist to help your company prevent the loss of life, mitigate property damage, and eliminate profit-reducing downtime. You also need accessible fire and life safety solutions to keep the business functioning, protect documents, ensure work is available for your employees, and limit liability claims.
Facilities managers, it is a big responsibility to have the proper fire prevention solutions in place and know that your fire protection equipment will work when called upon. AIE works with you to ensure the fire prevention features in your buildings promote effective life safety service management and property protection.
We provide proactive fire prevention solutions that ensure your facility is code compliant and minimize the risks of a catastrophe in the event of a fire, free-up your time, and provide peace of mind.

"Annually, there are 1.5 million U.S. structural fires that cause 3,000+ deaths and $10+ billion in direct property damage. Forty-percent of businesses that experience a fire close permanently; only 25% survive another two years." – FEMA
What Makes AIE Unique?
Much more than a slogan, "Stopping fire before it spreads," is the very bedrock of our corporate culture, and serves as a constant reminder of the unwavering commitment to be a leader in all fire protection matters.
AIE is one of the nation's Top Women Business Enterprise National Council (WBENC) Companies.
Nothing competes with experience; we have 37+ years of longevity in the field.
No other company is a true, single-source fire protection company. One contact. One invoice. One set of records.
AIE is known for helping clients drive down costs with knowledgeable decisions and bulk negotiated rates.
We provide the best national fire protection services because of our optimized, nationwide contractor network.
We have professional relationships with Fire Marshals and Authorities Having Jurisdiction (AHJ) all over the U.S.
Our 24/7 toll-free emergency hotline is always answered by AIE staff, never an answering service – yes, even on holidays!
We have our own in-house, licensed engineers who take a personal interest in your fire protection projects.
AIE provides swift action and expert, cost-effective fire protection and life safety solutions with integrity. We want you to experience the many benefits of one fire protection partner who specializes in facilities management fire prevention and safety.
We serve the following industries: manufacturing facilities, distribution centers, warehouses, retail chains, big-box stores, grocery stores, warehouse club stores, hotels, and large specialty stores. Contact us today for a no-obligation conversation. 800-892-9863
Contact AIE for Facilities Management Fire Safety Solutions
Stay Connected
Get expert fire protection tips and information delivered
right into your inbox. Subscribe to our blog below.