Restaurant & Commercial Kitchen Fire Protection Services
Restaurant and commercial kitchen fire protection services and life safety solutions do not come with a one-size-fits-all program. Your properties each have their own layout and specific equipment geared toward your operation. That's why you need uncomplicated, reliable custom fire protection services from a trusted, nationwide source. 
AIE is your expert, dependable, single-source restaurant and commercial kitchen fire protection company. We focus on making sure each location's fire safety systems are up-to-code with inspections, maintenance, and repair, without interfering in daily operations. Since 1983, we've been providing the most comprehensive fire protection for our clients, and we'd be honored to do the same for you.
AIE's team is your team! Our experts assist you in staying compliant. We ensure your fire systems are inspected, tested, and maintained to meet jurisdiction requirements and tailored to meet your needs. Provide your employees and customers a safe environment by partnering with AIE.
Restaurant Fire Protection & Life Safety Services
AIE provides a full range of restaurant and commercial kitchen fire safety services. At every location, we keep your systems operating as they should and in compliance with local codes. For easy accessibility of information, planning, budgeting, and compliance with the National Fire Protection Association (NFPA), our technicians keep comprehensive electronic records – no more sifting through paperwork when you need to find your service records. 
It is our goal to make your fire protection and life safety management seamless and convenient. Take a look at the selection of fire protection systems we inspect, test, repair, and maintain here.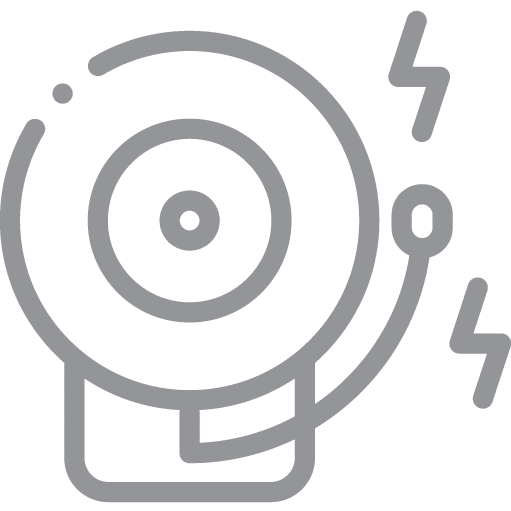 Emergency Lighting Systems
Kitchen Hood Suppression Systems
24/7/265

Toll-Free Emergency Hotline Answered by AIE Staff 
Have a water leak or other restaurant fire system emergency? AIE is the only nationwide fire protection company that offers a 24/7/365 toll-free hotline, 1-888-AIE-PALS (243-7257), always answered by knowledgeable, friendly AIE staff, never a third-party call center. 
AIE's fast, one-call process calms the panic and gives you power over the situation.
Fire Systems Inspections, Testing, & Maintenance for Restaurants & Kitchens 
Restaurants and commercial kitchens require specific fire protection equipment and safety systems unique to the industry. Much of that specialized equipment requires regular testing and maintenance on a mandated schedule, as non-working fire sprinklers, fire extinguishers, backflow preventers, kitchen hood fire suppression systems, and other fire protection systems can be life-threatening.
With AIE, fire protection and life safety inspections, repair, and maintenance have never been this easy. We have nationwide vendor partners who inspect and service ALL fire protection equipment in every restaurant location in as few visits as possible, all under one umbrella. Once contact. One invoice. One set of records.
We also act as third-party inspection managers between local inspectors and your staff. No more worries over stressful, disruptive, and costly fire inspections. We know what it takes to meet restaurant code compliance with as little disruption as possible.
In the U.S., total annual restaurant fires cost approximately $165 million, and 57% of the time, those fires involve kitchen equipment.
Our licensed fire 

technicians keep detailed electronic records and perform:
All inspections,
from quarterly to 20-year
Equipment & Water Systems Testing
Minimize loss prevention, simplify risk management, and meet fire safety norms in your restaurants with AIE fire protection, coast-to-coast since 1983.
According to FEMA, a commercial kitchen fire causes an average $23,000 loss. For about 43% of those restaurants, fire causes a total loss and they are forced to close. Keep your fire protection systems working and meet NFPA, ICC, AHJ, and other fire safety codes, with AIE.
Inspect & Service Your Kitchen Hood Fire Suppression System
In any size restaurant, the kitchen hood and the hood fire suppression system acquire a grease and grime build-up. This build-up, when not cleaned regularly, will eventually clog the nozzles meant to spray wet chemicals over the source of a stove, fryer, or grill to put the fire out. This causes a serious fire hazard.
So, how often do you need to clean, inspect, and service your restaurant's kitchen fire suppression system to ensure it remains in good working order?
NFPA 96 requires your kitchen hood fire suppression system to be inspected every 6 months by a licensed fire protection company.
AIE also recommends staff perform a basic visual inspection of the hood suppression system monthly.
Check for grease and clogs, damage to the nozzle caps and extinguishing lines, and anything that looks suspicious.
We recommend staff clean the hood, filter, and nozzles frequently – weekly, monthly, or bi-monthly. If your restaurant is high-volume, clean hood and nozzles daily.
You cannot be too careful with your kitchen hood suppression systems. The minor inconvenience and cost to have them professionally inspected and serviced by AIE is far less than the $60,000 cost of the average uncontained restaurant fire (National Fire Data Center). Our team of experts will partner with your kitchen staff to make this fire safety service as convenient as possible.
Built-up hood system residue becomes combustible at approximately 700 degrees Fahrenheit. The average cooking appliance flare-up is 1,800° F. With regular service, you can stop hood grease residue from igniting and spreading through your restaurant's entire duct system.
What Makes AIE Unique?
Much more than a slogan, "Stopping fire before it spreads," is the very bedrock of our corporate culture, and serves as a constant reminder of the unwavering commitment to be a leader in all fire protection matters.
AIE is one of the nation's Top Women Business Enterprise National Council (WBENC) Companies.
Nothing competes with experience; we have 37+ years of longevity in the field.
No other company is truly a single-source fire protection company. One contact. One invoice. One set of records.
We have professional relationships with Fire Marshals and Authorities Having Jurisdiction (AHJ) all over the U.S.
Our 24/7 toll-free emergency hotline is always answered by AIE staff, never an answering service – yes, even on holidays!
We provide the best national fire protection services because AIE has developed an optimized, nationwide contractor network.
We have our own in-house, licensed engineers who take a personal interest in your fire protection projects.
AIE is known for helping clients drive down costs with knowledgeable decisions and bulk negotiated rates.
AIE provides swift action and expert, cost-effective fire solutions with integrity. We want you to experience the many benefits of one restaurant and commercial kitchen fire protection partner who specializes in multi-site restaurant and hospitality facilities.
In addition to servicing restaurants and commercial kitchens, we also provide fire protection solutions to hotels, grocery stores, distribution centers, warehouses, retail chains, big-box stores, warehouse club stores, and large specialty stores. Contact us today for a no-obligation conversation. 800-892-9863
Contact AIE to Protect Your 

Restaurants & Commercial Kitchens
Stay Connected
Get expert fire protection tips and information delivered
right into your inbox. Subscribe to our blog below.