No matter what type of retail stores you own or manage – multi-site retail chains, big box stores, specialty retailers, grocery stores, or wholesale clubs – even the smallest of fires in one of these facilities can injure people and cause tremendous damage to inventory and the building. Practicing fire safety in retail stores can be challenging, but your staff can help keep up with safety practices by using our retail fire inspection checklist. It also readies your business for store inspections.
It is essential to make retail fire safety and protection a priority by:
Training staff on daily fire prevention practices and enforcing fire safety rules with a retail store daily checklist.
Designating specific employees to manage internal fire safety and fire protection systems inspections.
The easiest way to implement routine store inspections and ensure your fire safety is up to code is by using a checklist. AIE's printable Retail Fire Inspection Checklist will help your employees perform the proper fire prevention and life safety inspections at each location. The checklist also aids in code compliance and passing unannounced fire inspections
Commercial Fire Inspection Checklist for Life Safety Equipment & Systems
The National Fire Protection Association (NFPA), the Occupational Safety and Health Administration (OSHA), your local Authorities Having Jurisdiction (AHJ), the International Code Council (ICC), and your insurance company require documented proof that your facilities' fire protection systems, fire sprinkler, fire suppression systems, fire extinguishers, and other fire equipment are in working order at all times. It is imperative that you care for your buildings' occupants by keeping them safe with preventative fire and life safety measures in retail stores.
This Retail Fire Inspection Checklist will assist employees in performing all necessary inspections and help them correct anything that is not able to be checked off the list.
1. Daily: check building access (doors, windows, overhead doors) and outdoor areas for obstructions and fix any issues right away.
 The building address is easily seen from the street.
 All exterior doors work as designed for those coming in and those exiting.
 Exterior doors are not blocked by things like shopping carts, deliveries, trash receptacles.
 External fire department connections (FDCs) are easily accessible.
 Fire hydrant paths are unobstructed, providing access for fire trucks.
 There are no accumulations of combustible materials in outside area.
 All exterior areas are properly illuminated.
2. Daily: inspect all fire doors and emergency exits.
 Emergency exit doors are clearly marked and unlocked during open hours.
 Fire exits and doors are accessible and in working order.
 All emergency exit doors, hallways, pathways, stairways are clear of debris/storage.
 Fire doors open from the inside without keys or special tools.
 All fire doors are self-closing and latching. 
 3. Daily: evaluate retail store areas where fire hazards can cultivate; correct those that are not able to be checked off the list.
 Trash/waste is properly stowed in trash/recycling bins, not piled up in any area, especially doorways.
 Cigarette butts and containers are away from the building, shrubbery, and flammable materials.
 Combustible materials/liquids are stored securely in an approved cabinet per NFPA/OSHA regulations.
 Exits do not have combustibles (or anything else) stored in their path.
 Breakrooms are clean, trash is in bins, electrical appliances are protected with GFCI, nothing hot is on without someone in attendance.
 Nothing is hanging from fire sprinkler piping or sprinkler heads in locker rooms or anywhere else in the store.
 Fire pump rooms and riser rooms are 100% free of anything other than fire protection equipment.
 All supplies/stock/merchandise is at least 3 ft. from heating units and ductwork.
 Gas cylinders are secured to prevent tipping.
4. Check electrical systems; some monthly, some daily, as noted.
 Extension cords are not in permanent use (daily).
 Any extension cords in use are heavy-duty and grounded (daily).
 All breakroom electrical appliances are plugged into GFCI and clear of debris (daily).
 There are no malfunctioning or hot electrical wires (daily).
 Each electrical panel has 30 inches in width, 36 inches in depth, and 78 inches in height; nothing obstructs access to panels (weekly).
 All power strips have built-in circuit breakers (monthly).
 All electrical outlets have cover plates (monthly).
 Circuits are properly labeled on all panels (every 6 months/year).
5. Follow fire safety signage regulations; for non-illuminated, flickering, blocked exit signs, and faulty lighting, and look for the following:
 Exit signs are properly lit and unblocked (check daily for good fire prevention practice, monthly for code compliance).
 Emergency lighting units are functional (monthly for good prevention, annually for code compliance).
 Exit signs backup batteries work. Change annually on the same day each year for dependability.
6. Inspect all fire extinguishers.
OSHA and NFPA require monthly inspections by a trained staff member to ensure the pressure gauge is on full (needle to green), the hose is intact, and the pin is securely in place. Also, confirm:
 All fire extinguishers are present, visible, accessible; none are missing (weekly).
 All fire extinguishers are stored off the floor but not above five feet (weekly).
 There is nothing within a 36-inch radius of each extinguisher (weekly).
 Extinguishers are spaced up to 150' away in an open store floor plan (weekly).
 Extinguishers have inspection tags with up-to-date signatures (monthly).
 Extinguishers meet the necessary classification for each area (Class A, B, C, K) (monthly).
7. Make sure all smoke alarms and carbon monoxide alarms are working properly.
 Each smoke alarm and carbon monoxide detector has been hand-tested (weekly).
 No alarms are chirping (if they are, start by replacing batteries; then entire alarm if needed).
 Each alarm has two sources of power – electrical and backup batteries (monthly).
 Detectors are less than ten years old (monthly).
 
8. Test and inspect the fire alarm system. 
All 
fire alarms
 and their components must be tested annually by a 
licensed technician
, who should also 
inspect all aspects of the fire protection system
, including but not limited to the fire sprinkler system, standpipes, and fire pumps.
Daily, confirm:
 All fire alarm pull stations are accessible with nothing in the way of viewing them or activating them.
9. Test and inspect fire sprinkler systems and fire suppression systems. 
Quarterly and annual inspections are mandated by NFPA code and must be performed by a state-licensed technician. Inspect fire sprinkler systems and fire suppression systems.
During daily fire prevention rounds, check:
 Nothing is hanging from the sprinkler systems' or suppression systems' heads or pipes.
 Pipes and heads or nozzles are not bent, dirty, corroded, or damaged in any way.
 Fire sprinkler heads and suppression system nozzles are unobstructed; there is no signage/merchandise/debris within 18 inches.
10. Record Keeping. As you make your daily, weekly, and monthly rounds, review previous fire safety inspection, testing, maintenance, and repair records to make sure there is a regularly recurring process in place and that all inspections have occurred.
Record-keeping is mandatory per NFPA and AHJ. If you can't produce the required documentation during a regulatory inspection, it is a fire code violation.
 Look at inspection tags/stickers on fire protection equipment to confirm all required inspections have occurred.
 Verify emergency telephone numbers are conspicuously posted.
 Your retail store's written Fire Safety Plan is up to date and accessible to all employees.
Once this checklist is complete and signed, file with other inspection reports either electronically or in a Fire Safety file for easy reference.
Download our printable Retail Fire Safety Inspection Checklist and make fire and life safety inspections easy and dependable.
Some Commercial Fire System Inspections Require a Licensed Technician
Large retail and specialty big box stores have countless fire hazards and safety issues that can become a problem very quickly when not managed correctly. Faulty fire sprinklers, fire extinguishers, backflow preventers, and other retail fire protection concerns, when coupled with impromptu fire marshal inspections, can be stressful and costly.
When your business works with AIE, we track all fire inspection schedules, so these are no longer issues. Our nationwide, state-licensed technicians perform the following testing and inspections per NFPA 72 (quarterly, annually, and up to 20-year inspections), OSHA, and your local AHJ.

Emergency Lighting Systems

Kitchen Hood Suppression Systems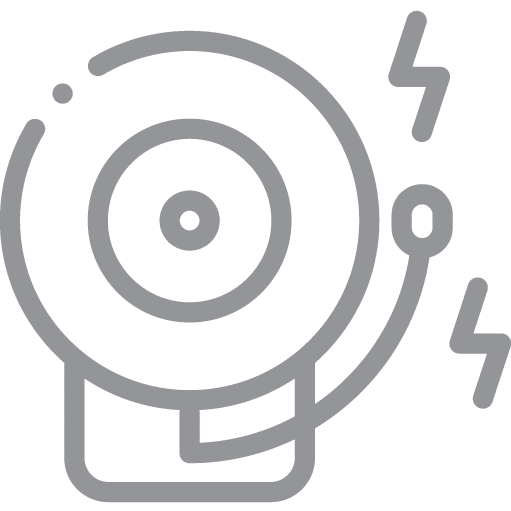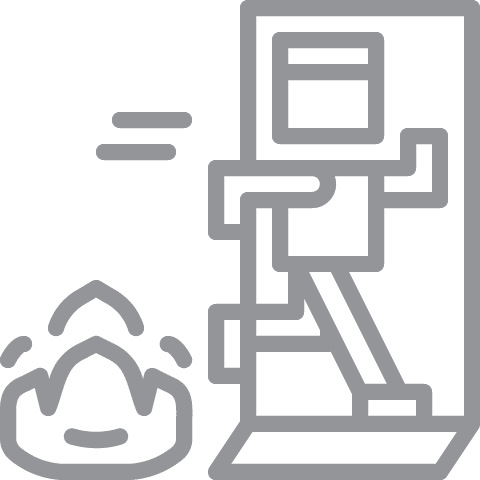 AIE provides peace of mind in knowing your big box stores' or large retail stores' fire protection systems are managed by a single point of contact with simplified compliance, expert maintenance, and electronic record keeping. One call. One source. One Invoice.
Regular Life Safety Inspections: Your Best Defense Against Fires
Caring for the lives of those in your retail stores, big box stores, grocery stores, and retail chains should be your number one priority. Since you can't predict when a fire might occur and threaten those lives, regular life safety and fire system inspections are your best defense against a faulty system or an obstructed exit that may risk occupants' well-being.
By sharing this Retail Fire Inspection & Fire Equipment Safety Checklist, AIE hopes to simplify your fire protection strategy, provide resources to implement safety measures in retail stores, and create awareness of the critical nature of fire prevention. You can find NFPA codes & compliance information, as well as specific standards for fire alarms, fire extinguishers, and fire sprinklers online.
If you have questions about this article, information online, or would like to partner with our nationwide fire safety inspection team who specializes in retail store fire protection, contact AIE today, 800-892-9863.
Information posted in our blog is merely for educational and informational purposes. While the information has been verified to the best of our abilities, we cannot guarantee its total accuracy, and it should not be considered legally binding advice. This blog is not intended as a substitute for professional advice, and should you decide to act upon the information, you do so at your own risk.